Pass Island, Busuanga, Palawan: A Beach Lovers' Paradise
Why Pass Island Should Be on Your Bucket List?
Pass Island, Busuanga, Palawan is a picturesque small island situated in the norther part of Palawan. People always think that Pass Island is in Coron, Palawan but it is actually in Busuanga. This is very common with foreign tourists who are looking for information about Pass Island on the internet. This is because Coron is the more popular place than Busuanga.
Pass Island offers a peaceful and quite place for those who love lounging on the beach. Or just listening to the waves of the sea. The island is an ideal destination away from the more commercialized places like Coron.
As you bask in the warmth of the white sand between your toes and feel the gentle sea breeze against your cheek, you will be amazed by the beautiful underwater ecosystem around you. The surrounding water of Pass Island is home to diverse marine life vibrant, coral reefs, and giant clams. 
Watching the sun set over the horizon of the West Philippine Sea, with its fiery hues reflecting on the calm waters, is a memorable sight.
Whether you are an avid sea explorer or a beach lover seeking to soak up some sand and enjoy some snorkeling, Pass Island, Busuanga, Palawan is the one you are looking for. Don't miss out on the chance to experience the best of both worlds at this privately owned paradise.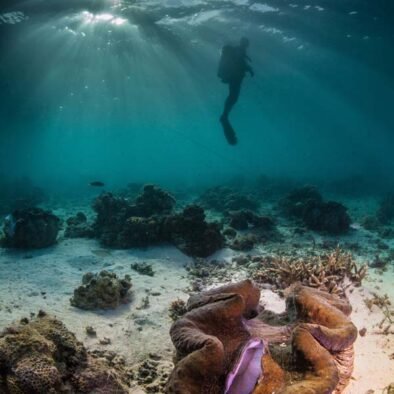 Frequently Asked Questions about Pass Island
1. Where is Pass Island located?
Let us clear one misconception. Pass Island is not in Coron. It is under the jurisdiction of the municipality of Busuanga, Palawan. A lot of searchers are searching for Pass Island by attaching the name "Coron" after it. It is approximately 30+ kilometers east from the main town of Coron.
2. What are the activities on Pass Island?
The most common activities on Pass Island, Busuanga are swimming and snorkeling. Tourists who are island-hopping in Busuanga use this island as a lunch picnic destination. You can rent a cottage for yourself or your group here. If you are into scuba or freediving, you will surely enjoy the place because you are surrounded by colorful corals and fishes. With occasional sighting of turtles. Visitors are also allowed to hike the hill and take a better panoramic view of the nearby islands.
Your better option is to book a day tour that also includes several other snorkeling destinations like shipwreck attractions.
3. Is there an accommodation in Pass Island?
There are no accommodations in Pass Island. However, you can camp there overnight if you bring your own tent. Camping here overnight can be a fun activity. There's rest rooms and cooking area. 
Pulo also offers glamping accommodations in Galoc Island which is less than 15 minutes away from Pass Island.
4. When is the best time to visit Pass Island?
If you are interested when to go to Pass Island, it is the same with other attractions in Coron or Busuanga. Best months to go there is during the dry season. It's the month of November to May. Preferably, the months of March to May are better. It's summer in the Philippines so expect more crowds than usual. 
5. Is there any food and drinks available on Pass Island?
None. There's no restaurant on Pass Island. There used to be one but as of our knowledge it is not operational. Your best option is to bring your own food, snacks and drinks. If you booked a tour with us or with other tour operator, you don't have to worry about preparing all these because we are going to take care of them for you.
6. Is Pass Island kids-friendly?
Simple answer is yes. Pass Island is very children-friendly. Your kids will love playing at the beach while you are snorkeling or just enjoying the sun and its white sand. Snorkeling in can be challenging for small kids but with proper guidance, they will enjoy. Always ask for the assistance of your guide or the boat crew if you or your kids are not good swimmers. 
Safety reminders for families going to Pass Island
We collect some data for our Analytics and use cookies to support your experience on our website.