Calamianes: A Geographical Overview of Northern Palawan
Calamianes' Diverse Landscape and Seascape
Welcome to the Calamianes Islands, one of the most beautiful and stunning destinations in the world! The cluster of approximately 100 islands and islets offer endless adventures, beautiful beaches, and incredible natural wonders that will leave you in awe. Whether you're an adventure seeker, beach lover, or nature enthusiast, there's no place like the Calamianes to satisfy your wanderlust and feed your heart.
With its clear turquoise waters, rich marine life, and stunning limestone cliffs, the Calamianes Islands is a paradise that offers endless possibilities for exploration and discovery. So what are you waiting for? Grab your virtual snorkel gear, put on your hiking boots, and get your bag ready.
The Calamianes Islands consist of an impressive collection of islands and islets located in the northern region of Palawan. This archipelago contains about 100 magnificent islands, offering an abundance of stunning sights and activities to explore. Depending on the source, the actual number of islands may differ, but one thing that remains certain is the awe-inspiring beauty of this island group.
With such an expansive collection of natural wonders, there is something for everyone – from picturesque beaches and coral reefs to thrilling water sports and adventure activities. The Calamianes Islands present an exciting opportunity to discover new, fascinating worlds and create unforgettable memories.
Other Notable Islands In Calamianes You May Want to See
Malcapuya Island
Pass Island
Banana Island
Calumbuyan Island
Black Island
When one thinks of islands, the first thing that comes to mind is usually the stunning coastal vistas. However, these picturesque islands offer so much more than just sandy beaches and crystal-clear waters. Believe it or not, many of these islands also have rugged, mountainous terrain that is just waiting to be explored. 
For those who love a good hike or trek, there are ample opportunities to satisfy your adventurous spirit on these islands. And if the idea of a dense, forested landscape gets your heart racing, then you're in for a treat! Some of these islands boast lush forests that provide the perfect backdrop for a peaceful stroll or an invigorating hike. The possibilities for exploration are endless, and these islands are sure to leave you feeling rejuvenated and fulfilled.
Discover the magic of the Calamianes Islands, where you can find stunning hidden lakes and lagoons amidst towering limestone cliffs. Kayangan Lake boasts crystal clear waters and dramatic rock formations, while the Twin Lagoons of Coron Island offer a magical atmosphere with calm turquoise waters. Venture into the depths of the uniquely named Barracuda Lake and see a different side to this island paradise.
Calamianes is home to the Maquinit Hot Springs, which were formed from volcanic activity and offer warm, therapeutic waters. The hot springs are perfect for relaxing and rejuvenating in the midst of natural beauty. Visitors can take in beautiful views of the springs, which are surrounded by hills and mangroves. Come experience the healing properties of the Maquinit Hot Springs and leave feeling refreshed.
Caves and Underground Lake
Some of the Islands, particularly Coron Island, have intricate cave systems and underground lake or rivers that are worth exploring. These natural wonders add to the geological diversity of the region.
Explore the mesmerizing Pukaway Cave Underground Lake on Palawan's Coron Island. It's a subterranean underground lake with crystal-clear waters, intricate limestone formations, and emerald hues, perfect for bamboo rafting and swimming.
The Black Island Cave located on Black Island has two saltwater lagoons. One of which is large enough for swimming. While the smaller one is home to a variety of marine species.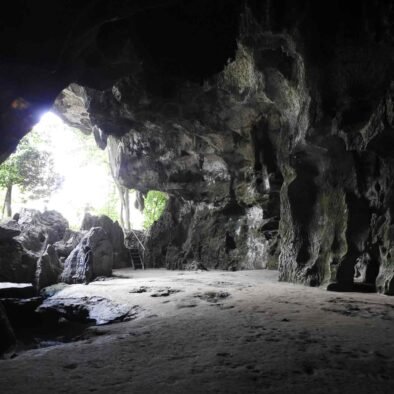 Visit the Calamianes Islands for stunning views of its mangrove forests, a vital part of its coastal ecosystems. Kayak or take a paddleboard to see marine species and learn about the different ecosystems present within. Don't miss out on this incredible, bucket-list must experience.
Geological and Ecological Diversity
The Calamianes Islands are an archipelago that boasts of a diverse landscape and natural beauty that is unparalleled in its kind. What makes this destination unique is the rich geological diversity that can be found in each of its islands, each with diverse ecosystems that are thriving with life. With a combination of breathtaking beaches and breathtaking geological formations, the Calamianes Islands is a paradise for nature enthusiasts, thrill-seekers, and those searching for a peaceful, tropical paradise. 
Whether you're looking to spend your days beachcombing, exploring underwater worlds, trekking through rugged landscapes, or simply enjoying the natural surroundings, the Calamianes Islands are sure to leave you in awe and with a sense of deep appreciation for the natural world. So come and experience the beauty of Calamianes islands for yourself, and allow yourself to be captivated and enthralled by their natural wonders.