Kayangan Lake, Coron, Palawan: A Description of Unparalleled Beauty
Crystal-Clear Water
Kayangan Lake, Coron, Palawan, Philippines is a beautiful natural wonder with incredibly clear and pristine waters. The water is so clear that it feels like you're looking at an aquarium behind glass. When you get close to the lake, you can see the rocks and aquatic life beneath the surface. The lake is different from others because the water is very clear, not murky. It's a unique and mesmerizing place that will leave you with unforgettable memories.
Turquoise Serenity
The lake's pretty blue-green color is amazing. When you look at it, it makes you feel amazed and like you're in a magical place. The colors are bright and beautiful like they're from a fairytale or a painting. The water looks so good that you'll want to go and explore it. Looking at the lake feels like you're in a peaceful and quiet world for a little while.
Towering Limestone Cliffs
The lake has big rocky cliffs around it. These cliffs make the view even more beautiful because they look like a big theater around the lake. The cliffs are covered in green plants and the water in the lake is a pretty green color. It's amazing to see the different looking cliffs above the green lake.
Hidden Caves and Caverns
Kayangan Lake offers more than just what you see on the surface – it has intricate underwater caves and hidden caverns for visitors to explore. These features add excitement and wonder to any diving or snorkeling adventure. Exploring the submerged wonders of the lake is a once-in-a-lifetime experience for enthusiast. Discover the hidden treasures within Kayangan Lake's underwater network of caves and caverns, which will leave a lasting impression on all who explore it.
Lush Surroundings
The lake is incredibly peaceful and beautiful, and when you're there, it feels like you're in a different world. The forest surrounding the lake is tropical and lush, making the scenery even more stunning. The trees and plants around the lake are full of life and add to its natural beauty. The green colors around the lake perfectly complement the calm waters, making it very pretty and peaceful to look at. You'll hear the sounds of nature as you get closer, like the leaves rustling and birds chirping. It's the perfect place to take a break from everyday life and enjoy the peace and quiet of nature.
Tranquil Ambiance
Kayangan Lake offers a sense of tranquility and serenity that is unparalleled. The peacefulness of the environment, coupled with the soothing sounds of nature, makes it a perfect place for relaxation and contemplation.
Vibrant Marine Life
The lake isn't just a visual treat; it's also home to a variety of aquatic species. Snorkelers and divers can encounter colorful fish and unique underwater flora, further enriching the experience.
Instagram-Worthy Views
Kayangan Lake is a really beautiful place. People love taking pictures of the clear water and tall cliffs. It's a peaceful and pretty place to escape from the busy city life. Lots of people post pictures of it on Instagram, and it's become famous now. People from all over the world come to see it. It's easy to understand why Kayangan Lake is one of the most popular places to take pictures in the Philippines!
Kayangan Lake: A Cultural Heritage Shaped by Geological Evolution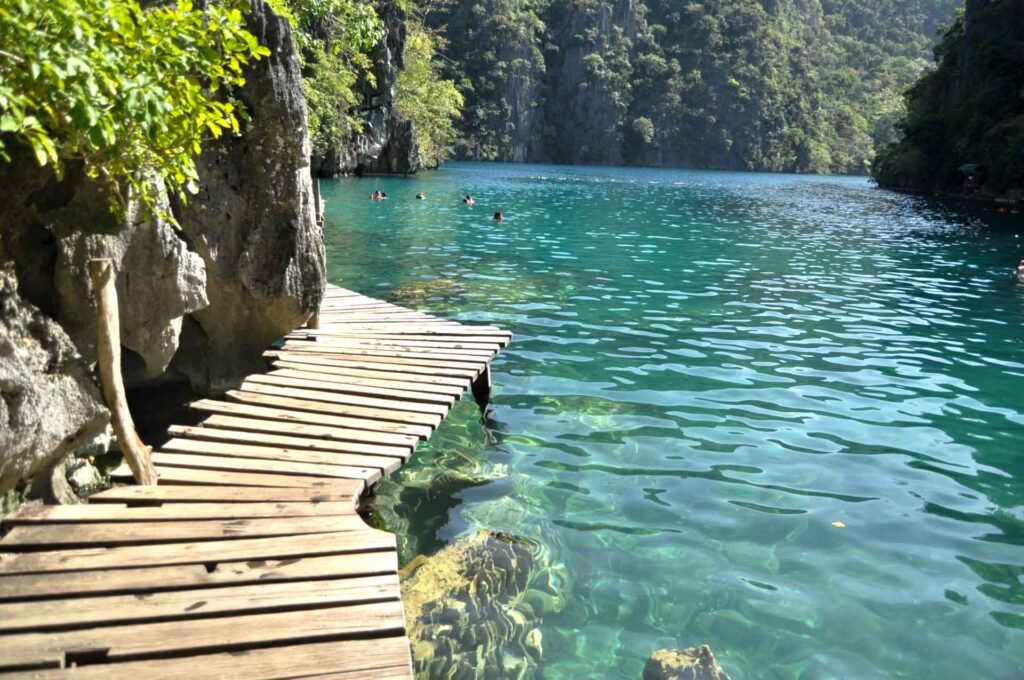 Kayangan Lake's cultural and geological importance and popularity with tourists make it a fascinating site, despite limited historical records. Its history is ongoing, centered on conservation and respect for nature.
Indigenous Tagbanua Connection
The Tagbanua people are a Philippine indigenous group known as "people of the world." They follow a unique culture shaped by the environment and prioritize protecting it. They have a long history of maintaining their traditional ways of life despite exclusion. Kayangan Lake, located in Coron, is a significant spot for the Tagbanua people who believe their ancestors reside there, and the water is sacred. The lake represents their deep connection with nature and rich cultural heritage.
Cultural Significance
For the Tagbanua, Kayangan Lake is considered a sacred place. It is believed to be the ancestral domain of their tribe and a repository of their cultural heritage. Rituals and ceremonies are conducted at the lake to pay homage to their ancestors and seek blessings from the spirits that are believed to protect the area.
Geological Formation
Kayangan Lake, Coron, Palawan, Philippines is a beautiful and unique natural wonder that is connected to the geological history of the area. The lake is a part of an intricate system of karst formations that include cliffs, caverns, and hidden lagoons. These formations may look like they were made by humans, but they were actually shaped by natural processes over millions of years. The area is dominated by karst limestone formations and the lake is linked to them. This is a testament to nature's power to create beautiful things over time.
Conservation Efforts
Efforts to protect and conserve Kayangan Lake and its surroundings have increased in recent years. Responsible tourism is being promoted with restrictions on activities and environmental preservation initiatives.
Tourist Attraction
Today, Kayangan Lake in Palawan, Philippines is a breathtaking tourist spot perfect for exploring natural wonders. With its clear sparkling waters, stunning rock formations, and cultural significance, it is the ideal place to take stunning photos and bask in nature's beauty. It is a must-visit destination for any traveler looking to explore Palawan's lush ecosystem and experience the cultural significance of the region.
Frequently Asked Questions About Kayangan Lake
Why is Kayangan Lake Famous?
Kayangan Lake, Coron, Palawan, Philippines is touted as one of the most captivating natural landscapes in the world. Its fame and popularity are a result of its exceptional charm, with its sparkling clear turquoise waters, stunning geological formations, and a rich cultural significance that is deeply ingrained in the hearts of locals and tourists alike. The lake is a place of unmatched beauty, with panoramic views and magnificent surroundings that will leave a lasting impression on all those who visit. It is a true testament to nature's grandeur and magnificence, offering an experience that's both awe-inspiring and life-affirming. Whether you're a nature lover or someone seeking to immerse yourself in a rich cultural heritage, Kayangan Lake's many attractions and offerings will make for an unforgettable experience you'll treasure forever.
What are the Different Tour Packages that Go to Kayangan Lake
Because of Kayangan Lake's popularity, there are literally hundreds of tour packages that take you to it, including our Exclusive Coron Island Speed Boat Tour. Because why not? It's one of the amazing places in Coron. If you prefer the traditional outrigger boat tour, you will find plenty of tour packages that takes you to Kayangan Lake.
The cost of tour packages can vary depending on your preference. A joiner or group day tour in Kayangan Lake, together with a few more other destinations, is about US$20 per person that comes with a picnic lunch. A private tour is about US$50 per person with better food choices.
Pulo Expedition Charters' Coron Island Tour is only available for exclusive bookings. If you prefer to do island-hopping in Coron, Palawan in style, then our speed boat tour is your best choice.
The idea here is to book with a reputable tour company to avoid issues that may arise along the way.
Is There an Entrance Fee in Kayangan Lake?
Yes, there is a P300.00 or approximately US$6.00 per person entrance fee. Remember that if you booked a packaged, either private or joiner tour, the entrance fee should already be covered. It is your guide's job to settle the fee with the care taker.
The fee is used to help maintain the lake and its surroundings.
How to Get to Kayangan Lake?
The best way to get to Kayangan Lake is to book a packaged tour in advance. This way, you don't have to worry about logistics as the tour operator you picked will arrange everything for you including food, transportation, guide, and other tour arrangements.
What to do in Kayangan Lake?
The most popular activities in Kayangan Lake are:
Swimming
Snorkeling
Stand Up Paddle Boarding
and Kayaking
You will have to make arrangements with your chosen tour operator if you want to do activities other than swimming and snorkeling. Booking an exclusive speed boat Coron Island tour with Pulo Expedition Charters is worry-free as we will prepare everything for you. All that you have to do is show up on the day of your tour.
Is Kayangan Lake a Freshwater Lake?
Yes, Kayangan Lake in Coron is mostly a freshwater lake. The water is sourced from underground springs and rainwater that provide its crystal-clear appearance. While the lake is mostly freshwater, some saltwater gets in because of its close proximity to the sea. This makes the top layer a mix of freshwater and saltwater. The freshwater is lighter than the saltwater and floats on top. This happens often in certain kinds of places with rocks. Even though this happens, the lake is still mostly freshwater and it's safe for swimming and snorkeling.
Is Kayangan Lake Dangerous?
Kayangan Lake is generally considered safe for visitors, however like any natural environment, it does come with its own set of potential risks and safety considerations. These can come in the form of slippery surfaces, uneven terrain, and unexpected weather conditions. Additionally, visitors must be respectful of the delicate ecosystem that makes Kayangan Lake so special. This means avoiding any actions that may harm the wildlife or plants that call this lake home. All the tourist must at all times swim in the lake with life jackets put on.
Are there resorts or hotels in Kayangan Lake?
There are no hotels or resorts in Kayangan Lake. Visitors must book accommodations in the main island or other private resort islands like Two Seasons Coron Island Resort and Spa.
Kayangan Lake vs. Barracuda Lake
Kayangan Lake and Baraccuda Lake are both beautiful and popular tourist destinations in Coron, Palawan. Despite their close proximity to each other, these two lakes differ in their distinct features and offerings.
Kayangan Lake, Coron, Palawan, Philippines, also known as the cleanest lake and the most photographed spot in the Philippines, boasts crystal clear turquoise waters and stunning rock formations, making it an ideal location for swimming and snorkeling. Meanwhile, Barracuda Lake offers an entirely unique swimming experience for its guests. The lake is known for its brackish water that is a mix of both salt and fresh water, and home to a school of barracudas that is said could be seen swimming in the deep end of the lake.
Whether you prefer the serene and clear waters of Kayangan Lake or the adventurous experience of swimming with barracudas in Baraccuda Lake, these two natural wonders are not to be missed when visiting Coron.