Coron is an incredible choice for anyone looking for an unforgettable getaway filled with adventure and relaxation. The beauty of the destination is simply breathtaking – from its immaculate beaches and crystal-clear waters to the stunning scenery all around you.
This pristine destination is a perfect escape from the chaos and busyness of regular life. It's perfect for anyone wanting to connect with nature or to explore diverse attractions. Regardless of whether you're an experienced traveler or a complete newbie, you're sure to find activities that cater to your interests.
Swim or snorkel alongside colorful marine life for an exhilarating experience, trek through lush forests and mangroves for a closer connection with nature, or visit historical landmarks to learn about the destination's fascinating history.
There's truly something for every type of adventure-seeker. If all this sounds like a dream, it's time to choose Coron for your next vacation experience!
What Are the 9 Destinations We Recommend You Visit When In You are in Coron?
Coron is an absolute paradise for everybody who loves the excitement underwater. If you're planning to visit Coron, here's a list of the top 7 destinations that one must visit to enjoy the beauty and charm of this magnificent island.
1. Kayangan Lake – The most popular spot in Coron
Kayangan Lake is a stunning crystal-clear natural swimming pool nestled in the limestone cliffs of Coron Island, Philippines. It is a dream destination for those who love to combine adventure, nature, and relaxation. Visitors are often awestruck by the turquoise blue waters of the lake and the picturesque landscape surrounding it.
To reach Kayangan Lake, you must climb up some steep stairs that lead to an observation deck, and from there, you can catch a glimpse of the breathtaking panorama of the surrounding islands. Once you descend to the lake's water level, you'll see an underwater world full of unique flora and fauna.
The water is so clear that you can see the different rock formations underneath. The whole experience is nothing short of magical, and it's not difficult to see why Kayangan Lake is considered one of the most beautiful and scenic spots in the Philippines.
2. Twin Lagoon – A magnificent natural wonder that leaves visitors in awe
Twin Lagoon is a stunning natural wonder located in the breathtaking Coron Island in the Philippines. The lagoon is named so due to its unique design which consists of two lanes or channels that are joined together.
The first lagoon is characterized by calm and crystal clear waters that reflect the shades of the sky, while the second lagoon is hidden behind a rocky wall, requiring visitors to swim in an underwater entrance to reach it. Once inside, visitors are treated to the awe-inspiring and picturesque view of limestone cliffs that rise out of the turquoise water.
The Twin Lagoon is a must-see destination for nature lovers and adventure seekers. Its perfect combination of beauty, adventure, and tranquility leaves visitors with unforgettable experiences and lasting memories.
3. Siete Pecados Marine Park – Home to an abundance of aquatic life.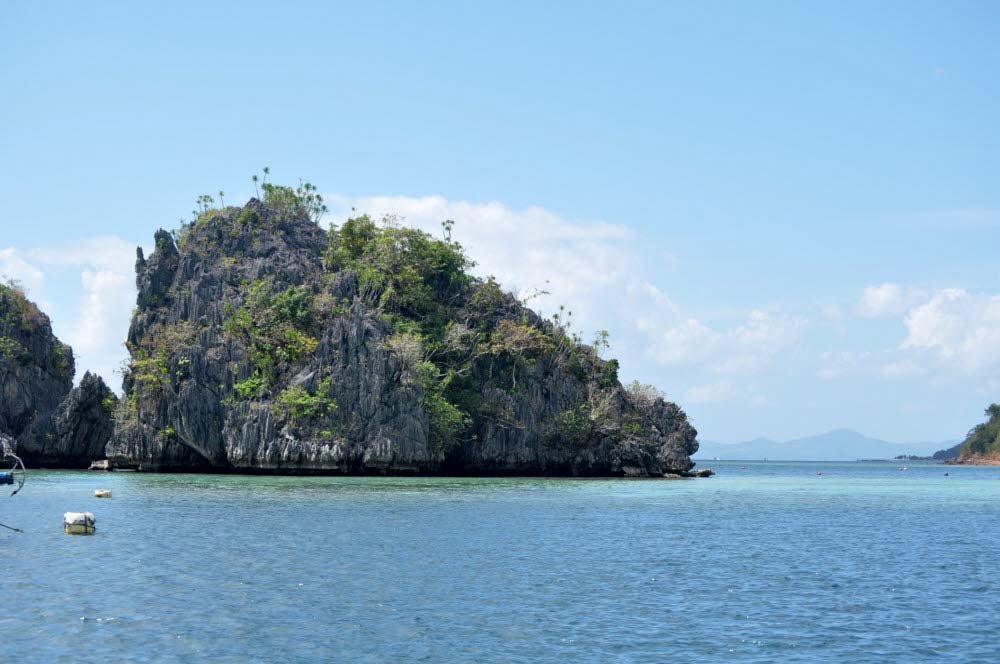 Siete Pecados Marine Park is a mesmerizing destination for tourists that showcases the stunning natural underwater beauty. The park is named after the seven peaks of limestone cliffs that protrude from the sea, each resembling the shape of the capital letter "V" in Spanish, which is how the park got its name (Siete Pecados translates to "Seven Sins" in Spanish).
Visitors can experience an array of activities, including swimming, snorkeling, and diving, amongst the vibrant coral reefs and diverse marine life, such as colorful fish, sea turtles, and even manta rays.
The crystal-clear waters of Siete Pecados Marine Park provide an excellent opportunity to indulge in some nature photography, capturing the stunning underwater scenery. The park is an excellent spot for a day trip from the nearby town of Coron, and it is a must-visit destination for anyone visiting Palawan.
4. Maquinit Hot Springs – A natural hot spring that will soothe your body and soul
Maquinit Hot Spring is a unique and picturesque natural wonder. The hot spring is touted as one of the best outdoor freshwater hot springs in the country, providing visitors with a truly relaxing and rejuvenating experience.
The water in Maquinit Hot Spring is heated naturally by geothermal activity, with temperatures ranging from 36-40 degrees Celsius. The high mineral content of the water is said to be beneficial for the skin and can help soothe sore muscles, making it an ideal place to unwind after a day of exploring the area.
In addition to the hot water, Maquinit Hot Spring offers visitors stunning views of the surrounding mountains and mangroves. There are also numerous wooden loungers and seating areas where visitors can relax and enjoy the scenery.
5. Skeleton Wreck – A shipwreck from World War II that's now home to a variety of fish species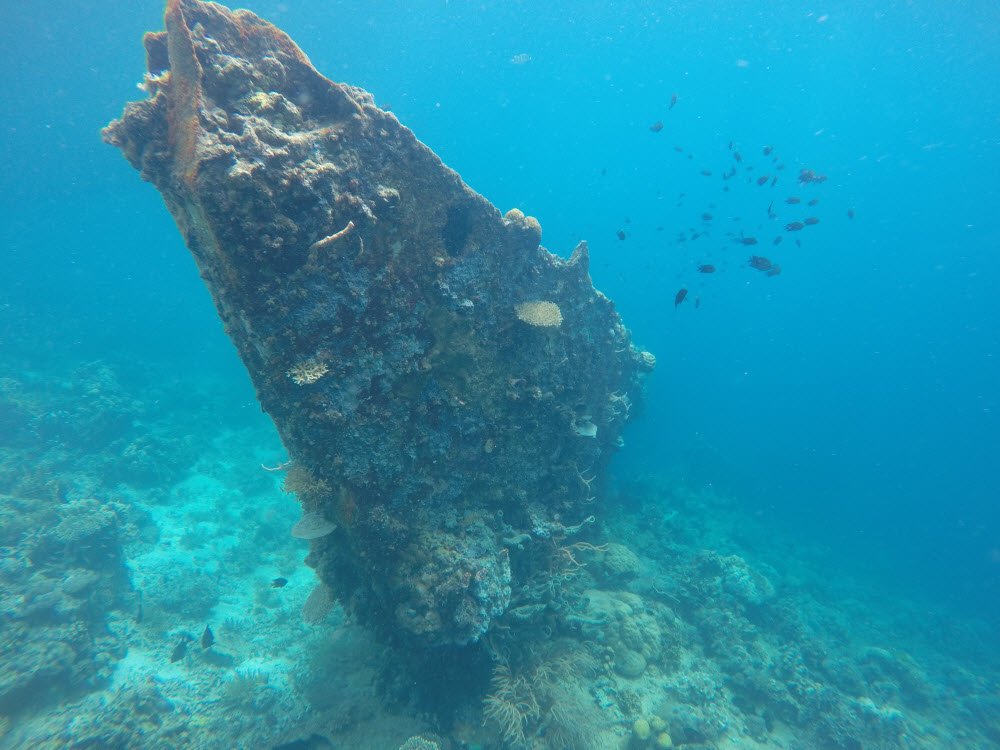 The Skeleton Wreck in Coron is a must-see destination for diving and snorkeling enthusiasts. This site offers a unique and eerie experience that is unlike any other dive location in the world.
The wreck is that of a sunken cargo ship that was bombed during World War II, and over time, the ocean has completely overtaken the metal frame of the ship, leaving behind a hauntingly beautiful and fragile skeleton of metal.
The Skeleton Wreck is located in shallow waters, allowing for excellent visibility so that divers can fully appreciate the details of the structure. As divers navigate through the network of twisted and rusted metal, they will also come across an abundance of marine life, including colorful schools of fish, crustaceans, and even sea turtles.
The Skeleton Wreck is not only a remarkable underwater spectacle but also a significant historical marker of the devastating impact of war on the region.
6. Coral Garden – A vibrant and diverse coral reef that's home to several fish species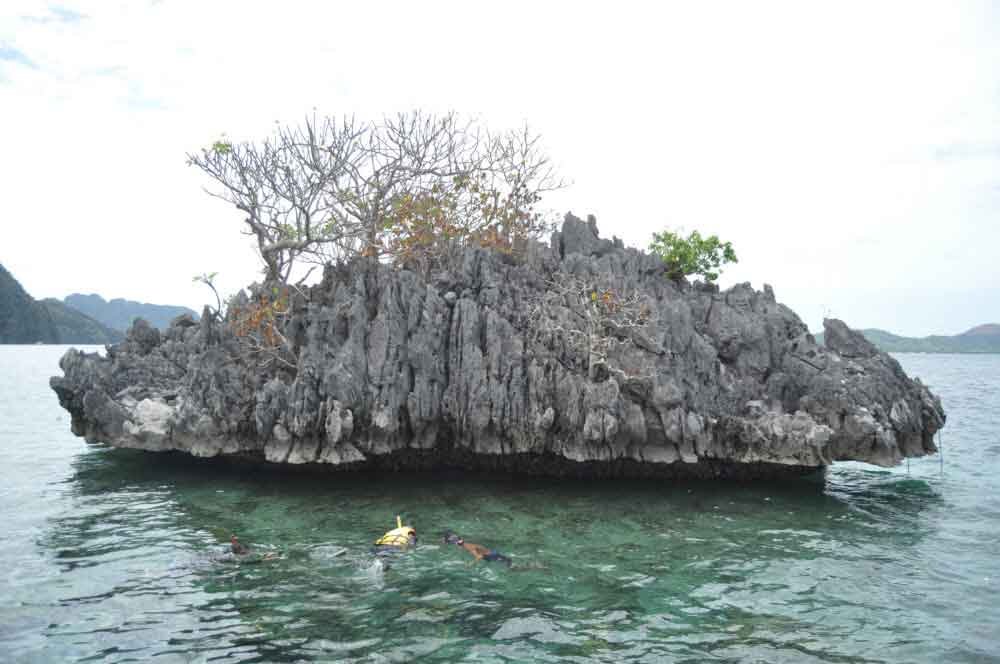 Coral Garden in Coron is a true underwater paradise with a diverse reef ecosystem that provides breathtaking sceneries for snorkelers and divers alike. It is an ethereal and vibrant marine sanctuary that is home to various coral species and thousands of fish.
The area features a vast array of coral formations, including healthy giant clams, sea fans, and sea whips, which serve as home and shelter for numerous marine species. It is a must-visit destination for anyone who wants to explore the beauty of the sea, and keen on getting up close and personal with thriving marine life.
Corals and other inhabitants are visible even in shallow waters, making it an ideal spot for beginners to experience snorkeling with exotic fish and vibrant coral communities.
7. Mt. Tapyas – A challenging hike that rewards visitors with a breathtaking panoramic view of the island
The hike in Mount Tapyas Coron is an incredible experience that you should definitely try! The trail is well-maintained and has various challenges that test your endurance and resolve.
Starting at the base, you'll make your way to the summit, where you'll be rewarded with breathtaking views that are sure to take your breath away. Along the way, you'll encounter lush vegetation and diverse wildlife that will make for an adventure like no other.
One of the best things about the hike is the sense of accomplishment you'll feel when you reach the peak. You'll be able to stand tall and look out over the stunning landscape and seascape of Coron Town and Coron Island.
Conclusion: Why Choose Coron For Your Next Dream Vacation?
These top 10 destinations are just some of the many reasons why Coron, Philippines is undoubtedly one of the best destinations that should be on everyone's bucket list. And we only mentioned about the destinations in Coron. So, what about Busuanga and Culion? We haven't talked about them yet because they deserve their own blog posts.