How Malcapuya Island Outshines Your Average Paradise?
Tucked away in the waters of Culion, Palawan, Malcapuya Island is what screensavers aspire to be. With sand so fine it gives powdered sugar a run for its money, this isn't just a beach – it's a tropical catwalk and the ocean's the main show.
Put on your snorkeling gear, and you're not just swimming – you're flipping through Mother Nature's vibrant underwater magazine. Expect cameos from flamboyant fish and maybe a photobombing sea turtle or two.
The coconut trees? They're not just there for the aesthetics (although, hello, Instagram). They're the island's version of skyscrapers, swaying to the rhythm of the oceanic jazz.
And those limestone rock formations aren't just geological wonders; they're nature's sculptures, possibly the world's oldest art installations, minus the admission fee. Actually there's admission fee, you're guide just don't tell you. It's P250 per person.
Forget five-star resorts; Malcapuya Island's cottages are more 'cozy rustic chic' with a side of 'serene ocean views'. No neon or thumping bass here. The stars might throw a glittering party in the sky, but down here, it's all about the lullaby of waves and the occasional curious crab.
If paradise had a quieter, sassier sibling? Malcapuya Island would be it. Perfect for those who want their beach with a side of cheeky charm.
Remember: Sunscreen's a must, but a sense of humor? That's the real key to enjoying this gem.
Malcapuya Island Frequently Asked Questions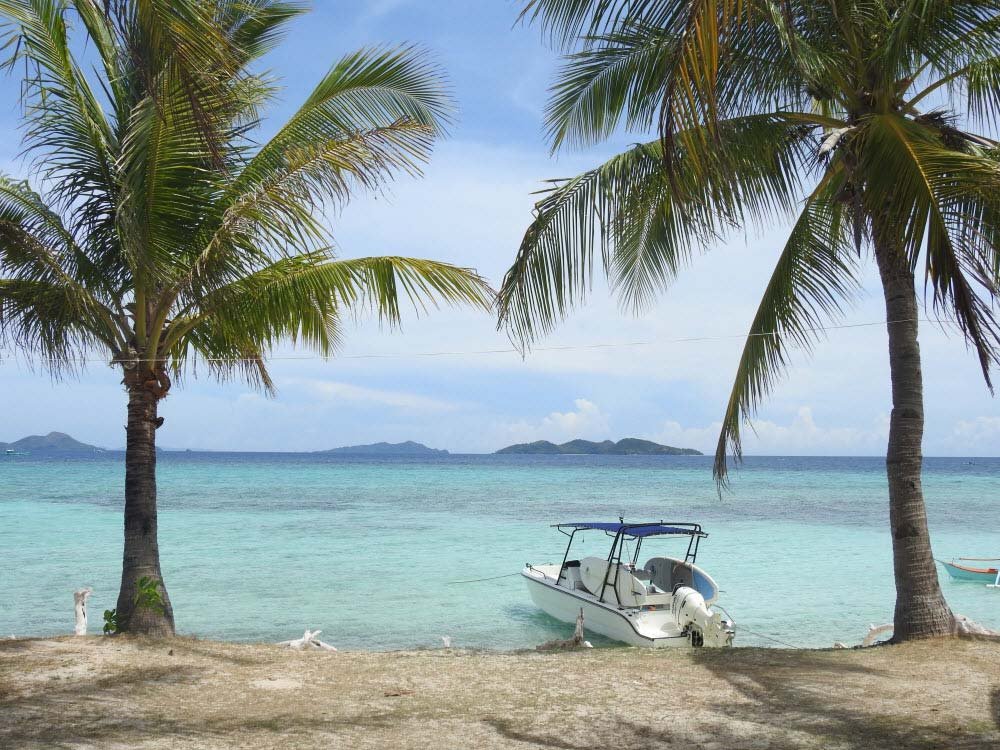 1. Malcapuya Island, Coron, Palawan? Or Culion, Palawan?
This has been asked online a lot of times. And this has to be corrected. Malcapuya Island is not in Coron, Palawan. It is in Culion, Palawan. Both places may sound the same, but the last time we checked, Malcapuya Island hasn't move an inch towards Coron.
2. How to go to Malcapuya Island?
The easiest and fastest way to go to Malcapuya Island is via a speedboat. We are biased because that's what we do, speedboat tours. It takes about 1.5 to 2 hours to get there. Going there goes against the sea current. However, by speed boat, it's about 30 to 40 minutes only.
But seriously, the best way to go to Malcapuya Island is by availing one those island-hopping tours at the town proper of Coron.
3. When is the best time to visit Malcapuya Island?
The best time to visit Malcapuya Island is also the best time to visit Culion, Palawan. Read our Culion Guide here. The dry season starts in December and ends in May. Summer in the Philippines starts in March to early May.
This is not to say that you can't or you shouldn't go to Malcapuya Island during wet season. It's just that there's a big chance of encountering bad weather that may ruin your vacation. This is especially for tourists traveling half of the world.
TIP: Visit our national weather forecasting agency's website, PAGASA, for the latest weather forecast in the Philippines or in Coron.
4. Malcapuya Island Tour Packages
In Coron or Culion, Palawan, tour packages are usually available as private tours or joiner group tours. These tour packages cost around P2,000 to P3,000 per person (US$35.00 to US$52.00). The variations in the prices depends on the inclusions the tour provider offers.
Basically, the inclusions are boat fees, lunch with drinks, snorkeling gears, and entrance fee and guide. Some tour operators may include snacks, additional drinks, and additional 1 or two island destinations.
TIPS:
Plan your Coron tour in advance by booking online. Operators have Facebook, Instagram, or websites. Book early for summer trips in Coron because it gets really busy here in Coron.
Compare prices from different tour operators to suit your preferences and budget.
Book only from reputable tour operators only to ensure a worry-free vacation. Read reviews from their social media platforms.
Not all tours are created equal. Pick the one that tickles your fancy, not just your wallet. Big savings does not necessarily mean, better tour package.
5. Malcapuya Island History
Specific historical details about Malcapuya Island itselt are not extensively documented in widely available sources, unlike other well-known landmarks or historical sites around Coron, Culion, and Busuanga. Malcapuya Island is widely known for its tourism value due to its pristine beaches, clear waters, and colorful coral gardens. Sorry to burst the bubble.
If you are a history buff, you may want to read our article about Culion, Palawan. Here, you will find a ton of information about Culion's history that may interest you.
6. Is there are entrance fee in Malcapuya Island? If so, how much?
Yes, there is an entrance fee in Malcapuya Island. The fee is P250.00 per person or about US$4.39 depending on the state of the world economy and oil prices. In short, it depends on the current exchange rate.
The fee is used for the islands preservation and livelihood of the locals.
7. What are the things to do in Malcapuya Island?
Beyond lounging on the beach, visitors might be curious about snorkeling, diving, island-hopping to nearby islands like Bulog Dos Island, or other recreational activities. You may also want to photobomb the beautiful rock formations there.
Just don't fall asleep for too long or the boat will leave you behind. It's a long way back to Coron if you swim alone.
8. Where to stay in Malcapuya Island?
If you're asking if there's a fancy hotel in Malcapuya Island, you will not find any. But, you can stay there overnight if you bring your own camping gears and tents. It is important, however, that you coordinate this with your tour operator of choice.
9. Where to eat on Malcapuya Island?
If you are asking if there are restaurants in Malcapuya Island, there is none. The food that you saw on Instagram or Tiktok were brought there with you and were prepared for you by the boat's crews. Don't forget to thank them after your tour for cooking your lunch.
10. Is it safe to swim and snorkel around the island?
Malcapuya is generally considered safe for swimming and snorkeling, however like any natural environment, it does come with its own set of potential risks and safety considerations. These can come in the form of strong waves during wet season and unexpected weather conditions. Additionally, your ability to swim can help you enjoy the waters of Malcapuya Island. We always advice our guests to wear their lifejackets while swimming or snorkeling.
Additional FAQs About Malcapuya Island
1. Is there a toilet on Malcapuya Island?
Yes, there is one located near the entrance of the island.
2. Is there a shower on Malcapuya Island?
Only basic amenities are provided on Malcapuya Island. There are rest rooms or rinse-off areas for visitors but not a full shower facility. You will not need one, anyway. You can shower back in your hotel.
3. Is there electricity on Malcapuya Island?
There is but it is limited in the designated areas like campsite and the restaurant.
4. Can I bring my own food and drinks to Malcapuya Island?
Yes, of course. You can bring your own food and drinks. But please be reminded to bring your own trash back with you. Leave no trace, remember?
5. Are there ATMs in Malcapuya Island?
No! There's none. So it is better to bring cash with you.
6. Is the Malcapuya Island crowded?
We understand that sometimes you would prefer a quieter experience but it can get really busy in the island especially during summer vacation. A lot of Filipino locals love going to the beach during this time. But the island is so big, you will not notice the crowd. The tourists are scattered all over the island.
Conclusion: Malcapuya Island – A Beach with a Twist
Do you want to know what Disney's Magic Kingdom and Malcapuya Island have in common? Both are known for having a magical aura that takes your breath away, but only Malcapuya Island has an added touch of paradise. With its crystal-clear waters and powdery white sand, you'd think you've stumbled upon a mermaid's hideout, except there's a diverse marine life that makes the trip even more exciting.
You might need a picture as proof to convince your friends that you weren't hallucinating. So, pack your bags, book that trip to Coron, and don't forget to add Malcapuya Island to your itinerary because the experience is worth a lifetime of stories to tell. And who knows, your visit might inspire the mermaids to come out and play.