Coron Natural Farms: A Coron Traveler's Green Destination
The Dynamic Duo Behind Coron Natural Farms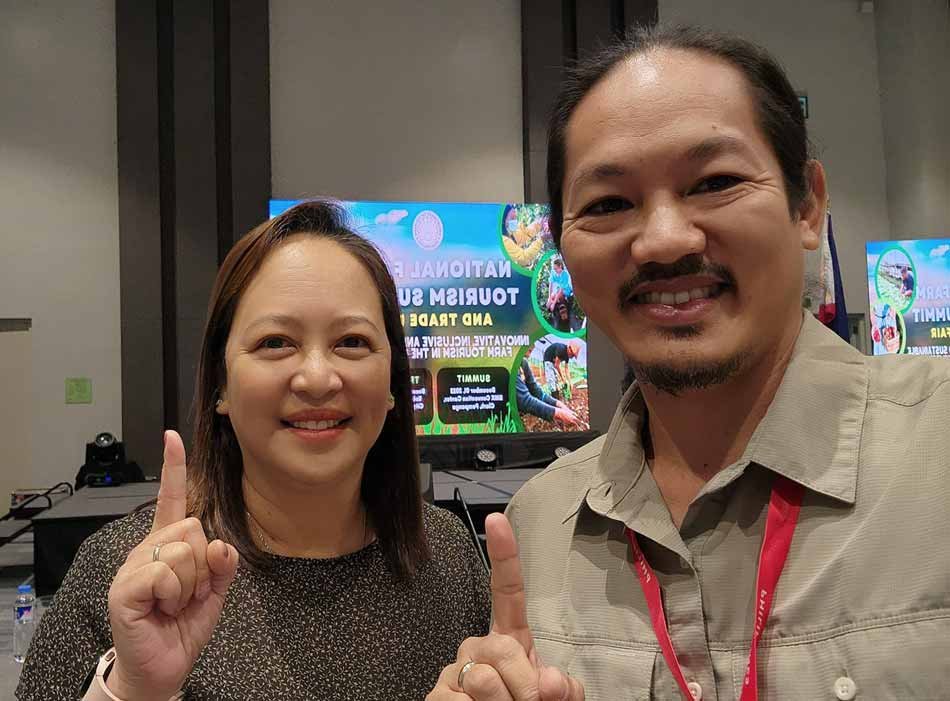 There is truly something special about Al and Mae Linsangan, the power-duo behind the fantastic Coron Natural Farms in Decalachao, Coron, Palawan. Their extensive backgrounds and impressive expertise in eco-tourism have made them an integral part of the travel and tourism industry in Coron, Palawan. Al has an impressive lineage dating back five generations in Coron, which has allowed him to truly immerse himself in the customs and traditions of the area's indigenous communities. His skill and worldwide recognition in nature photography have made him an invaluable asset to the industry, with his work appearing in prestigious travel publications, coffee table books, and postcards.
With Al's wealth of knowledge in the indigenous communes and Calamianes Islands' hidden treasures, he has been instrumental in creating tour packages and products that cater to all kinds of visitors. Moreover, Al has been a leader in championing community-based eco-tourism initiatives that promote socially sustainable travel, making his contributions even more invaluable.
Mae, on the other hand, has her roots in Puerto Princesa City and handles the daily operations and details of Calamianes Expeditions Ecotours. Her role as the face of the company, responsible for tourist relations and coordinating with partner communities, has been crucial to the success of Coron Natural Farms and Calamianes Expedition Ecotours. She works closely with partner communities to source manpower, supplies, and other tourism-related materials, further cementing their companies' commitment to sustainable tourism. 
Al and Mae's combined efforts have made Coron Natural Farms an extraordinary  green destination for all travelers, and there's no doubt that they will continue to thrive and make a positive impact on the industry.
To better understand the philosophy behind Coron Natural Farms, you need to understand first what is "Natural Farming". 
Natural farming aims to cultivate crops and livestock by working in harmony with nature's processes and rhythms. By adopting this approach, farmers can minimize human intervention and external inputs. The fundamental principle of natural farming is to let nature take its course, allowing it to find its balance and productivity without the need for human-induced disruptions.
The concept has its roots in a philosophy that believes that nature can flourish without human intervention. It focuses on the importance of ecologically sound agricultural practices that respect and work with the natural environment. Natural farming is a sustainable approach that encourages farmers to minimize their impact on the environment while producing healthy food crops and livestock. By following this method of farming, farmers can create a healthy ecosystem with the least amount of human intervention.
Merging Natural Farming with Sustainable Farm Tourism
It's hard to believe that what was once just a small patch of land in 2012 has transformed into the stunning green oasis that is now known as Coron Natural Farms. Located in the serene part of the Calamianes, this natural farm has earned it's well-deserved reputation and accreditation from renowned local and international institutions in agriculture, tourism, business, and education.
What to expect when visiting Coron Natural Farms?
When you visit Coron Natural Farms, you'll find yourself surrounded by majestic mountains teeming with native trees, shrubs, and rice paddies alongside vegetables, herbs, and fruits – some of which are endemic to Palawan. You'll take a rugged path past rows of bamboo, and you'll be captivated by the sound of fresh flowing water from the mountain river that eventually makes its way to the majestic sea. It's truly an untouched and undisturbed natural haven that is a real treat for all the visitors of Coron.
What to Do in Coron Natural Farms
Coron Natural Farms, showcases the best practices in agri-tourism, conservation, culture, sustainability, and farm-to-table experiences. Their unique tour takes you on a journey through the heart of their Farm School, providing an authentic and immersive experience.
Learn and engage in farm activities. This tour showcases six major components of natural farming, each highlighting a different aspect of Coron Natural Farm:
You will also have the opportunity to savor the local cuisine, truly embracing the farm-to-table experience. Indulge in fresh dishes prepared with organic ingredients sourced directly from the farm.
Coron Natural Farms is a training site for organic agriculture. This is where Mr. Al Linsangan himself will teach you about:
A really great way to experience farm life while learning from Coron Natural Farms' comprehensive natural farming courses.
3. Kayaking and Paddle Boarding
Explore the tranquil side of Coron by embarking on a kayaking or paddle boarding adventure that will take you from a winding bend of a river to a beautiful mangrove channel where you can witness the beauty of endemic birds and sea creatures in the area's crystal-clear waters.
Coron Natural Farms can provide you with the opportunity to engage in the activity of bird watching and allow you to potentially encounter species only found in Palawan, so make sure to bring your binoculars to quietly appreciate their beauty during your tour.
Coron Natural Farms offers tourists an opportunity to kick their adrenaline into high gear while exploring nature through nature biking. Their developed bike trails are perfect for visitors seeking an exhilarating and unforgettable biking experience surrounded by the beauty of the forest.
In Summary: Coron Natural Farms: A Coron Traveler's Green Destination
Coron Natural Farm offers a wide range of features that promote agricultural sustainability, such as vegetable gardens, orchards, livestock, bio-composting, aquafarming, and permaculture, and also has a farm school which is available for visitors to learn about sustainable agricultural practices and experience farm life.
The farm offers a variety of eco-friendly activities for visitors like farm tours, farm stay, farm-to-table dining experience, and other low-impact activities like paddle boarding, kayaking, and cycling.
It offers a unique opportunity to explore sustainable agriculture, appreciate the picturesque Palawan countryside, indulge in delicious local cuisine, and unwind in a serene natural environment.
Coron Natural Farm is a popular tourist farm destination, and it is also a valuable resource for the local community. The farm provides jobs and training opportunities, and it helps to promote sustainable agriculture practices in Coron, Palawan.
Thank you to Al Linsangan for allowing us to use their contents like photos and text descriptions for this blog post.
We collect some data for our Analytics and use cookies to support your experience on our website.